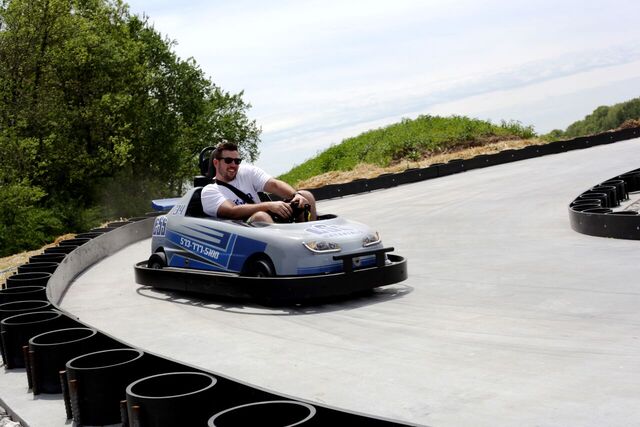 Our new state-of-the-art racetrack is 740 feet of pure excitement, and there's nothing else like it in the area!
Our new Thundervolt electric go-karts are the fastest, most efficient, cost-effective and versatile electric go-karts available, and they provide the best racing experience for our customers. All of our karts feature seatbelts and padding for protection, bumpers to keep drivers safe,  as well as variable speeds depending on driver age. Take them for a ride today!
Go Kart track is open during regular operating hours, weather permitting. Track must be dry to run.
Our Go Karts are equipped with 3 different speed settings which are assigned based on height requirements. All karts on the track must be set to the same speed setting. We try to run in groups according to size so please be aware that you might experience a brief waiting period.
Go Kart Requirements:
Single Kart
Speed 1: 50″ Tall (minimum of 6 years old)
Speed 2: 52″ Tall
Speed 3: 56″ Tall
Double Kart
Driver: 60″ Tall (minimum of 18 years old)
Passenger: 36″ Tall (minimum of 4 years old)
For the safety of our customers and our employees, we cannot make exceptions to these requirements. Thank you for your understanding.